How to Say Happy Thanksgiving to Your Cat?
Thanksgiving is a wonderful time to bond deeply with your family, friends, and of course, your fur friends. Our kitties bring a lot of fun and happiness to our lives. It is a purrfect time to look for some extra special fun ways to express our gratitude to our furry friends.
Fun Ways to Celebrate "Catsgiving"
1. Thanksgiving cat toys
Cats never have enough toys. It is time to gift your cat some new ones! For example, cats always go crazy for catnip toys. Surprise them with a handmade fiberfill felt toy in the shape of a turkey drumstick or fall leaves. Or get them to look funny and cute with a turkey hat or comfy costume. And it can also bring warmth during the winter season. If it can get really cold in where you live, you can get him a cozy cave bed that looks like an orange pumpkin. We know cats can get sleepier and lazier during the winter.

2. Thanksgiving Dinner
In the spirit of giving thanks, why not cook a healthy, delicious meal for your kitty? Don't know what you can feed your cat on Thanksgiving? Well, first remember, not all thanksgiving foods are good for the feline. We, humans, love turkey, and you might not want your fur baby to miss it.
Unseasoned, lean turkey with the skin removed can be a good choice. Avoid ingredients such as garlic, onions, chives, and herbs. You can also prepare plain pumpkin puree without any seasonings and rich milk or cream. For the goods of their digestion, you can also steam peas, carrots, and green beans. Always make sure which foods are safe for cats.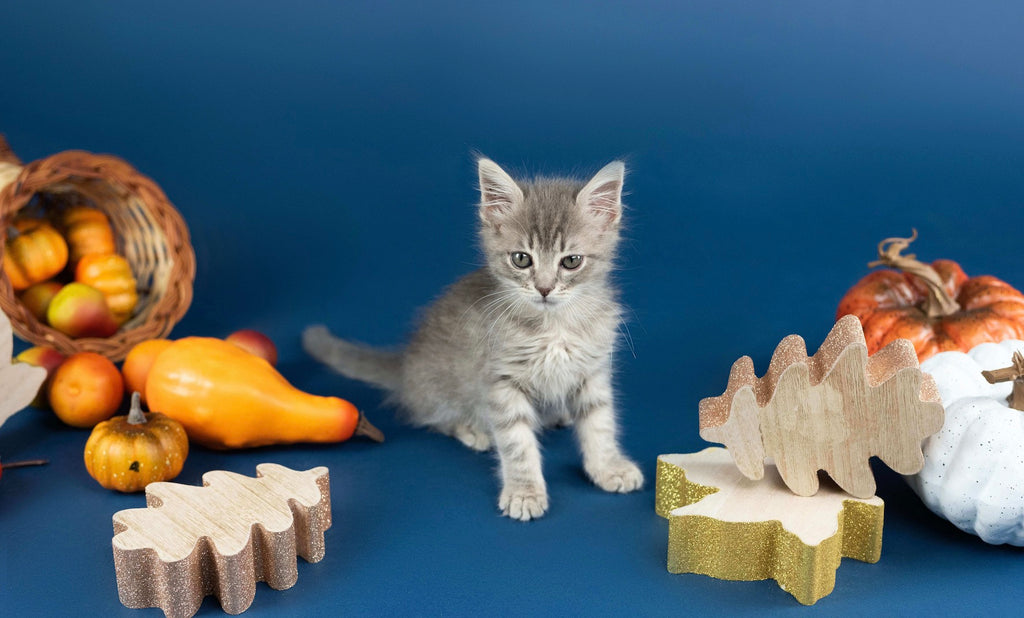 If you are just not a chef, you can go out and pick up some Thanksgiving-themed cat cans of wet food that include turkey and vegetables.
3. A Special Thai Massage
During Thanksgiving, many new people wander in your house and your kitty can get very anxious. Give your cat a massage to relieve his stress, and make your furry friend feel more cared for. Feline deserves a Thai massage just like humans.
First, find a comfortable spot. Wear HICC GROOM! Pet Grooming Gloves and pet your kitty's body gently from hair to tail. They will enjoy your soft touches and the gentle SPA. It is also a good chance to clean them with gloves as you move throughout the massage. And of course, it is a great time to increase your bonding during the busy holiday.
4. Play with your kitty 
You have given your kitty a great gift toy, fed him a feast, and even tried a SPA massage. You are a wonderful parent. But with such a busy time, your kitty can easily feel being left alone. Another good way to bond with your cat is to play with them. If you just give your kid a toy without playing with him, a toy will just be a normal toy instead of a meaningful thanksgiving gift. To make your catnip felt turkey toy more worthwhile and interactive, you can dangle a string from the end and play with your furry friend.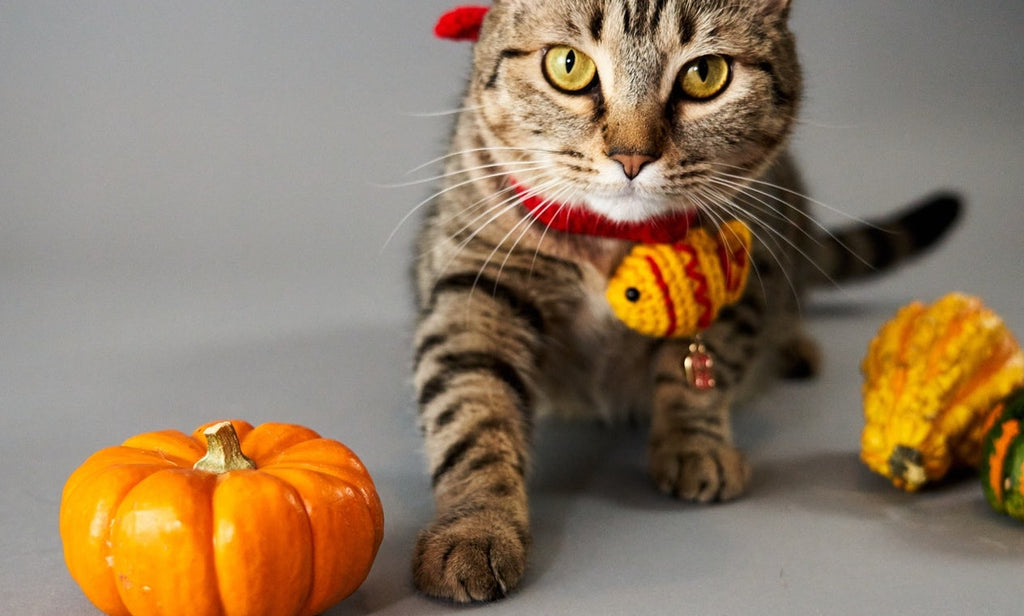 A happy catsgiving is a happy thanksgiving. We want our kitty to be happy and healthy. The holiday is the perfect time to improve your relationship with your fur friend. Make it more special with our sincere gratitude and extra tender loving care. Happy catsgiving!