HICC GROOM! A gift card is a prepaid card that can be used to make purchases on this website www.hiccgroom.com. Purchase gift cards in denominations ranging from $5 to $500. As a lovely gift to celebrate a friend's birthday, a loved one's wedding, or an award gift for yourself busy work. HICC GROOM! Gift Cards never expire so you can use them anytime.


How to Use Your Gift Card to Shop Online
After you order a gift card, you will receive an email with your eGift Card. (The gift card typically arrives within 30 minutes.)
When you make a purchase on this website, enter your card number when you check out and it will work as a substitute for cash.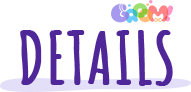 HICC GROOM! website is the only official platform to buy this gift card. Please don't believe in other illegal purchase links via email/SMS, etc.
Please don't share your Gift Card No. with others.

【1】Product Storage
The storage shown on this page is real-time. The storage number changes after you check out your order. To ensure that you can buy your favored products, we strongly recommend that you complete your payment as soon as you place your order.
【2】Shipping Fee
If you purchase multiple items, to avoid multiple shipping fees, we strongly recommend that you use the shopping cart to combine all items into one payment.
* You can choose your shipping method at checkout.
* Free shipping: order is $ 39.99 or above
* Diamond VIP will have a coupon of $10 off shipment fee for every order
【3】Shipment & Delivery
1. Normally we ship within 2 business days after you submit your order.
2. We ship Monday to Friday from 9am to 5pm from Hillsboro, OR. If you place your order after 5pm on Friday, it will be processed on Monday.
3. For orders without special requests, our system will arrange shipment automatically. For orders with order comments or notes, our customer service will review your order before shipment. In this case, the delivery time can be longer. To ensure that you can receive your products as soon as possible, we strongly recommend that you only leave the necessary messages in your order comments.
4. Currently, we do not ship to Alaska, Guam, and Hawaii.
5. You can track your package on your profile page on our website.
Return Policy
1. We are very confident in the quality of our products. However, if you have any problem with the products after you receive them, please contact our customer service through the chat button on this website. We will offer you a solution according to your case.
2. Our return and refund processing period is within 7 days, which means you have 7 days after receiving your item to request a return.
3. We will refund you if there is any problem with the products. You don't need to send back the package. (Tips: When you receive the goods, if the product has obvious defects, damage, and other serious quality problems and cannot be used normally, you can apply for a refund and don't need to send back the package. ) A refund will be done within 1 week after you request a return.