Pet birthday wish gift pack, focusing on pet health cleaning kit. In-depth massage, care for your pet's health problems, and then bid farewell to pet odors, let your pet feel the charm of HICC GROOM!.
2 Boxes SPA Grooming Pet Gloves(5 Pairs/Box)
Free Gift( F

our-piece birthday set

)

Value gifts (four-piece birthday set);
Pet birthday/holiday package;
Surprise your pet;
Make pets happy;
Both practicality and texture;
Christmas gifts for pets;
Christmas gifts for friends/relatives with pets🎁;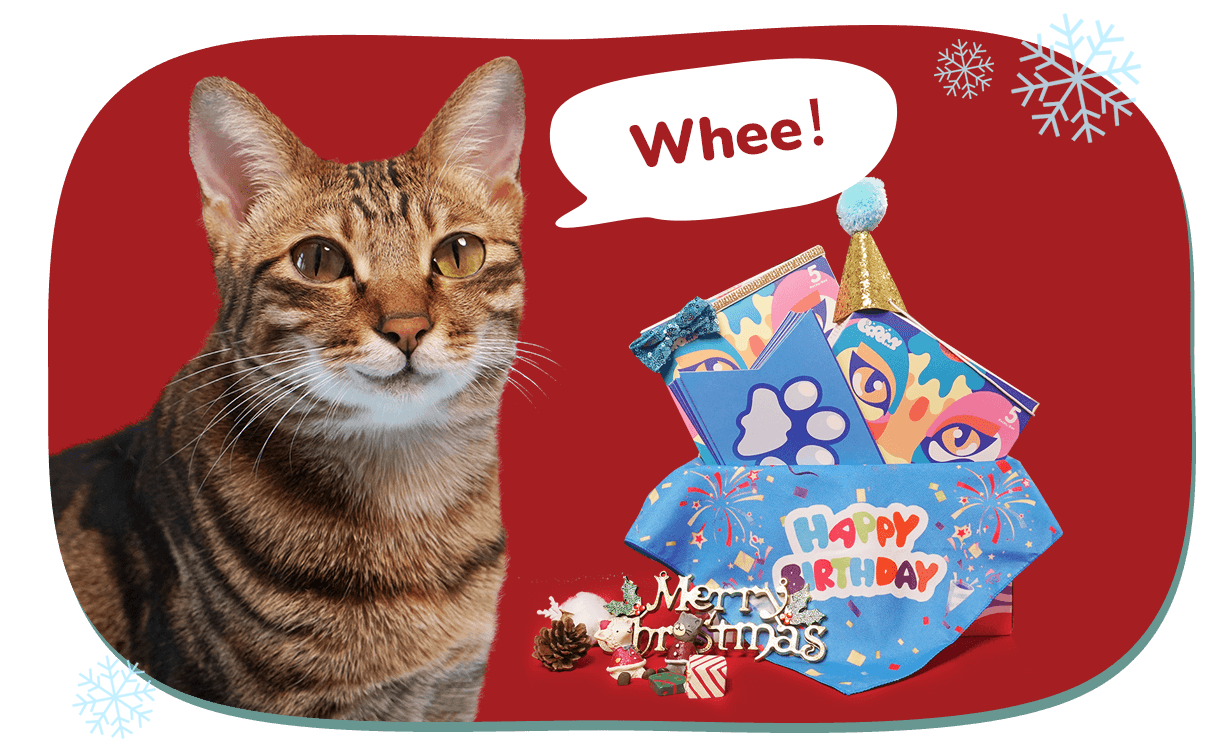 2 in 1 No-wash pet cleaning gloves;

Non-toxic and non-irritating;
Clean and deodorize;
Can be used on wounds;
Hypochlorous Technology - Prevent the breeding of cat ear mites;

A High Standard of Care for Animal Hygiene and Health;
Safe for all Cats and Dogs of all ages;
Environmentally Friendly and Biodegradable Solution;
SPA gloves are a new alternative to cat bathing;
The 1st Pet Grooming Product in the U.S. with HCLO Antimicrobial Technology.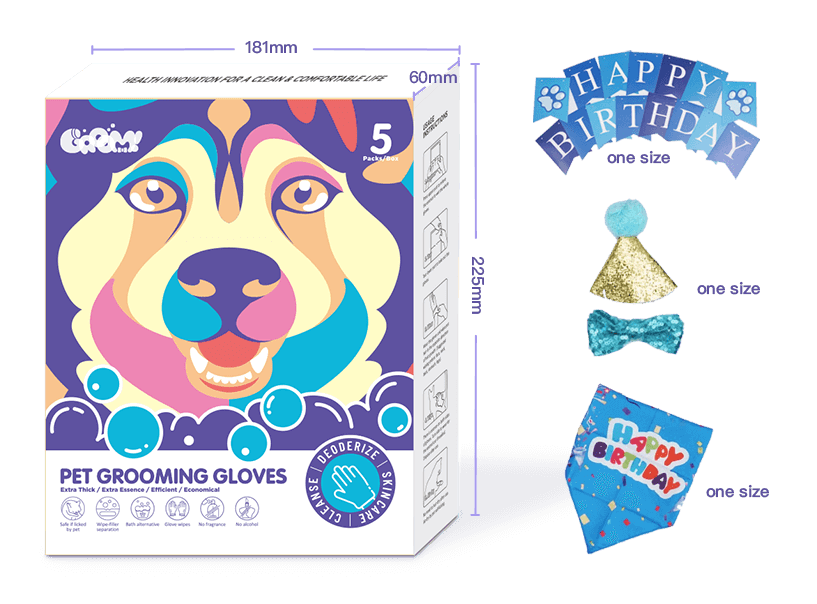 Brand
HICC GROOM!
Size
One Size (Fits All)
SHELF LIFE
1 year
INGREDIENT
Hypochlorous Acid (0.02%), Deionized Water.
No alcohol, no fragrance,

Glove Material
non-woven fabric
Thickness
2mm/pcs
Package Size 
0.18m * 0.23m * 0.05m (box)
CAUTIONS
1. For external use only.
2. For animal use only, not for human use.
3. Keep out of reach of children.
4. Friendly for animals.
5. Store at room temperature away from direct sunlight and heat.

【1】Product Storage
The storage shown on this page is real-time. The storage number changes after you check out your order. To ensure that you can buy your favored products, we strongly recommend that you complete your payment as soon as you place your order.
【2】Shipping Fee
If you purchase multiple items, to avoid multiple shipping fees, we strongly recommend that you use the shopping cart to combine all items into one payment.
* You can choose your shipping method at checkout.
* Free shipping: order is $ 39.99 or above
* Diamond VIP will have a coupon of $10 off shipment fee for every order
【3】Shipment & Delivery
1. Normally we ship within 2 business days after you submit your order.
2. We ship Monday to Friday from 9am to 5pm from Hillsboro, OR. If you place your order after 5pm on Friday, it will be processed on Monday.
3. For orders without special requests, our system will arrange shipment automatically. For orders with order comments or notes, our customer service will review your order before shipment. In this case, the delivery time can be longer. To ensure that you can receive your products as soon as possible, we strongly recommend that you only leave the necessary messages in your order comments.
4. Currently, we do not ship to Alaska, Guam, and Hawaii.
5. You can track your package on your profile page on our website.
Return Policy
1. We are very confident in the quality of our products. However, if you have any problem with the products after you receive them, please contact our customer service through the chat button on this website. We will offer you a solution according to your case.
2. Our return and refund processing period is within 7 days, which means you have 7 days after receiving your item to request a return.
3. We will refund you if there is any problem with the products. You don't need to send back the package. (Tips: When you receive the goods, if the product has obvious defects, damage, and other serious quality problems and cannot be used normally, you can apply for a refund and don't need to send back the package. ) A refund will be done within 1 week after you request a return.